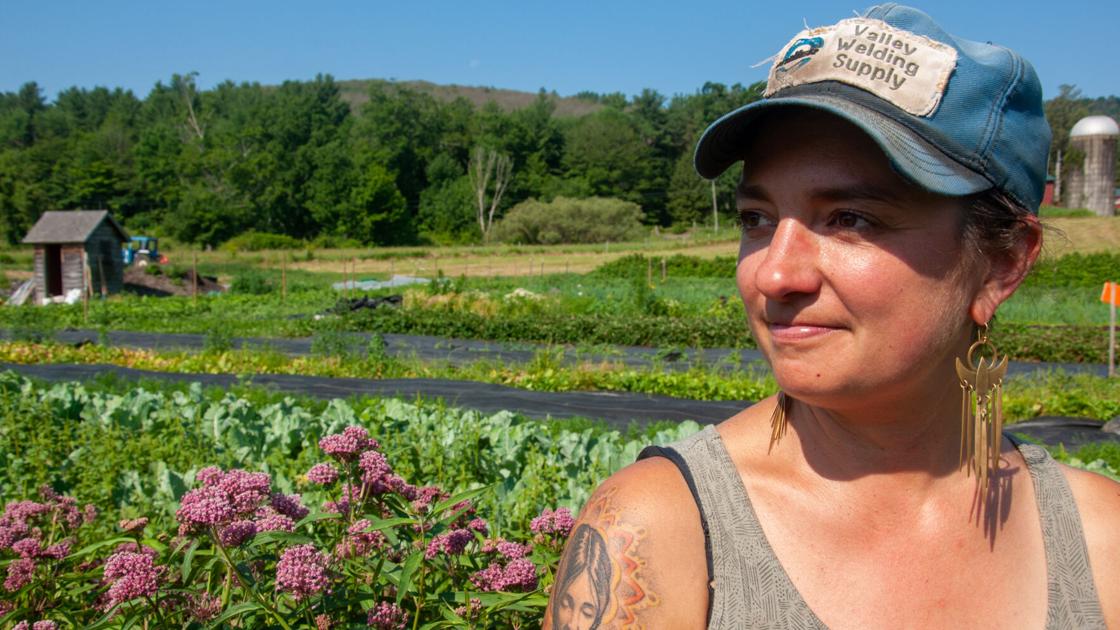 Uprooted in Alford? Even if the small farm's bonus arrives, its future is cloudy | New
[ad_1]
ALFORD
Molly Comstock's stained daily to-do list – on what needs to be sown, what needs to be harvested – makes no reference to the most pressing issue in front of her: that a farmer needs roots.
Yet here she is planting seeds, reaping crops – and on the verge of losing her farm at the end of this growing season. A tiller in those Berkshire hills, she's about to be uprooted again.
"Nomad," says Comstock, 42, as if to take a mirror atop the wobbly wagon that brought her to this precarious point. "I wish there was a different word."
An email sent by one of his clients on June 25 had the subject line "Help Save Colfax Farm". Although appreciating the gesture, Comstock is a farmer, not a beggar. She saw the email and at first just wanted to crawl in the dust and disappear, perhaps reappear as an anonymous flower, shining and beautiful, oblivious to the world of economics and business. property.
But, in the Berkshires, where locally grown food and the beautiful land on which it is grown remain elementary characteristics, Comstock is now a reluctant test case for the degree to which people here care about farms and, by proxy, of the farmer.
As for this particular farmer, the land she leases on West Road here will not be available to her next year. The soil she's been practicing as a midwife since 2018 – pushing with a Broadfork, amending, and now as spongy as a chocolate cake – well, she doesn't own a shred of it.
She founded Colfax Farm in 2014, first at a friend's house in East Chatham, NY, then on borrowed land in West Stockbridge. The lack of a water source at this site was a major reason to move his operation to Alford in 2018, on approximately 3 acres within the beautifully maintained farmhouse owned for generations by the Wilcox family on West Road .
"Ray Wilcox let me build a greenhouse, use a barn and open a store on the farm," says Comstock, who now has a full-time employee and several volunteers. "Ray has been incredibly generous. "
But his lease expires at the end of this season. It will not be renewed. Contacted by phone this week, Wilcox declined to comment.
Comstock drives an old Chevy pickup with a squeaky suspension. She has a Johnny Cash tattoo on her leg, among other things, all representative of the sacred fixed points in her life. One is a quote her mother cherished from writer Flannery O'Connor: "You will know the truth and the truth will make you strange."
The strange became terribly evident. Unlike the beautiful and bountiful crops Comstock is harvesting this summer, the terrible truth is, "I need help," she said. "It's a big request."
John Fulop, chairman of the board of the Berkshire Community Land Trust and self-proclaimed chief beggar on behalf of Colfax Farm, has no qualms about making the request.
"We need to strengthen our agricultural resources in this end of the country, especially in the county of Berkshire," he told me. "We have so much land that could be used for agriculture. We won't be able to depend on Florida or California any longer. They are in dire straits. They have a drought. Many of their farms are closing. The agricultural component is crucial for us to remain a vibrant community.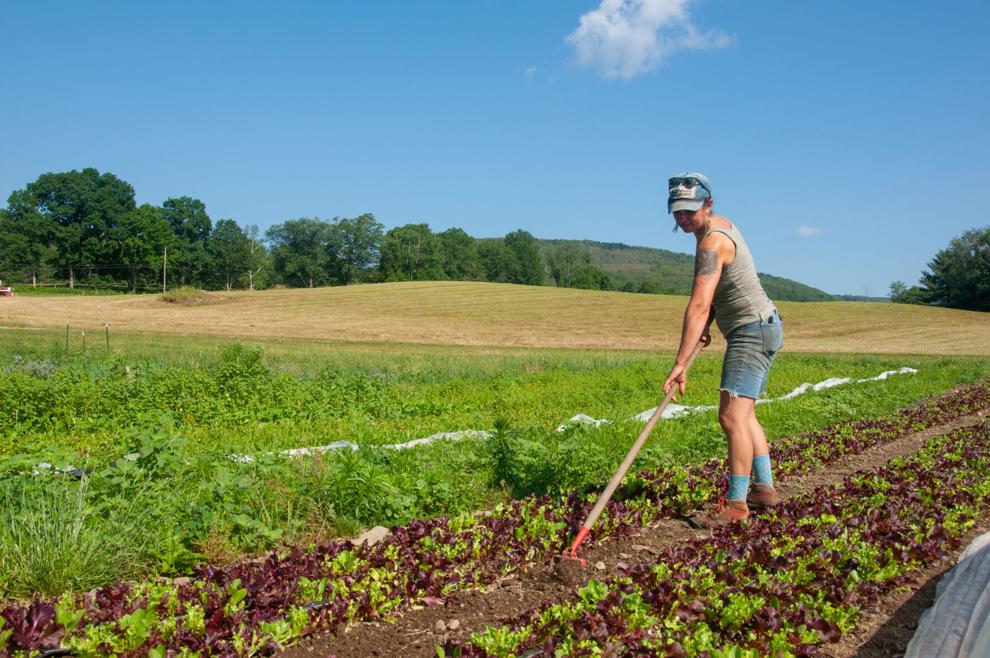 Part of the equation, he says, includes Comstock, whose Colfax farm now feeds 120 condominium customers once a week, 25 weeks a year, and about the same number of customers through the West Stockbridge Farmers Market. She also sells to stores and restaurants.
Fulop says he has a legitimate hope that people in the community can pull themselves together, that a tax-deductible donation of land can be obtained.
If the situation were to be summed up in a personal ad it would read something like this: A single energetic farmer seeks 5-10 acres of open land, preferably in the West Stockbridge and Alford area. Must have access to water and electricity. Needs accommodation, too, to sleep. No frills. Must all come inexpensively – as in, a little free or pretty much. Call Molly, 607-743-8190.
"All of this makes me uncomfortable," said Comstock, tugging on the beak of a half-century-old, farm-tarnished sky-blue baseball cap. The cap belonged to his father, Robert (middle name, Colfax), and has a patch sewn onto it announcing his welding business. He died in 2007.
Comstock's mother, Pamela, managed at one point to pull the cap off her head long enough to secure the note, which was falling. We can still see his seams, neat and neat, using thread whose color was quite similar. Pamela died in 1999.
On his left arm, Comstock has a tattoo of his father bent at the angle grinding task, sparks are flying. On his right arm, his mother, holding a hen. Pamela, one of the horrified early readers of food labels, grew most of the vegetables the family ate on her patch of land in rural Deposit, NY, east of Binghamton, near the border of the Pennsylvania. Comstock grew up eating parsley by the handful.
All in all, her tattoos are tied to those transcendent moments she sometimes experiences – which most farmers report experiencing – when doubts subside, when the load is lightened, when life harmonizes. with the air of creation. For Comstock, for obvious reasons, those moments did not come this season.
Meanwhile, living in a vintage 1960s trailer set on a cliff behind a barn, Comstock towers over his organic farm – its rows of colorful and orderly vegetables alongside an enchanted stream in a lush, fairytale valley. Clover trails frame various sections. The sections are marked with painted signs in Spanish which translate to "Dream" and "Hope" and "Heaven" and "Soul" and "Smile".
She let exactly one row of vegetables – parsnips – turn into seeds, as if to tie a string around a finger, a reminder. She won't be there next season. She has to start letting things get out of hand.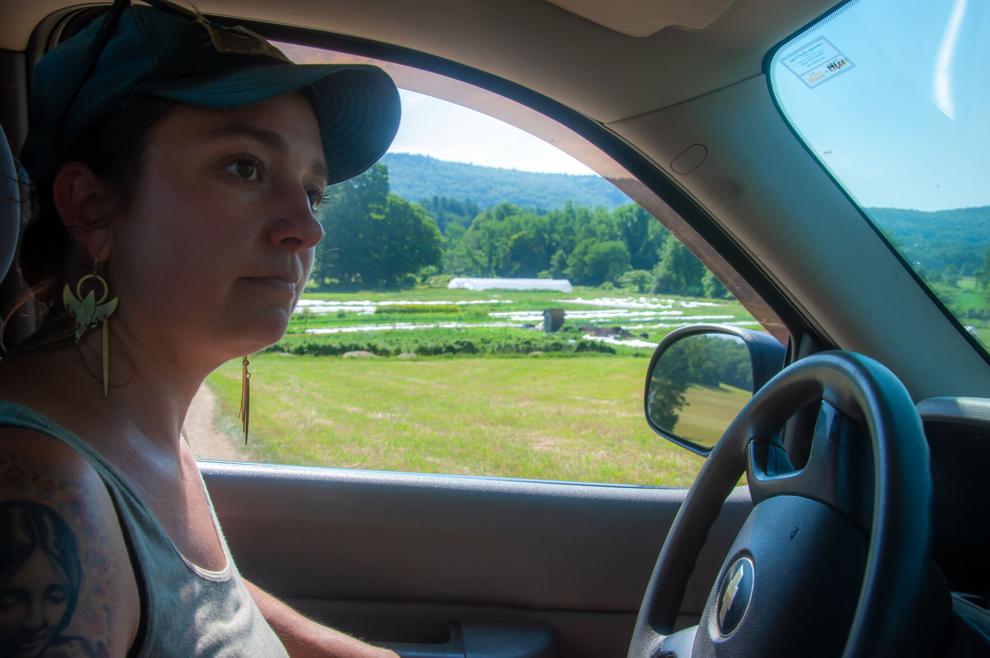 The effort to save Colfax Farm is not the first of its kind. Perhaps the most famous a generation ago is that of Indian Line Farm in southern Egremont, one of the country's first community-supported agriculture farms, protected by a coalition of local residents. .
Comstock participated in an online forum on June 30 on the future of his farm, hosted by Rob Putnam, a board member for Berkshire Community Land Trust, which included Elizabeth Keen of Indian Line. Comstock appreciates that people care enough about her to contact her.
A farmer needs roots, after all. For now, for Comstock, those roots have felt reduced to the size of a blue cap, the one his father owned, the one his mother fixed.
"I wear it because it gives me a lot of strength and comfort," she says. "I need it."
She shoots the bill. The seam holds well.
[ad_2]