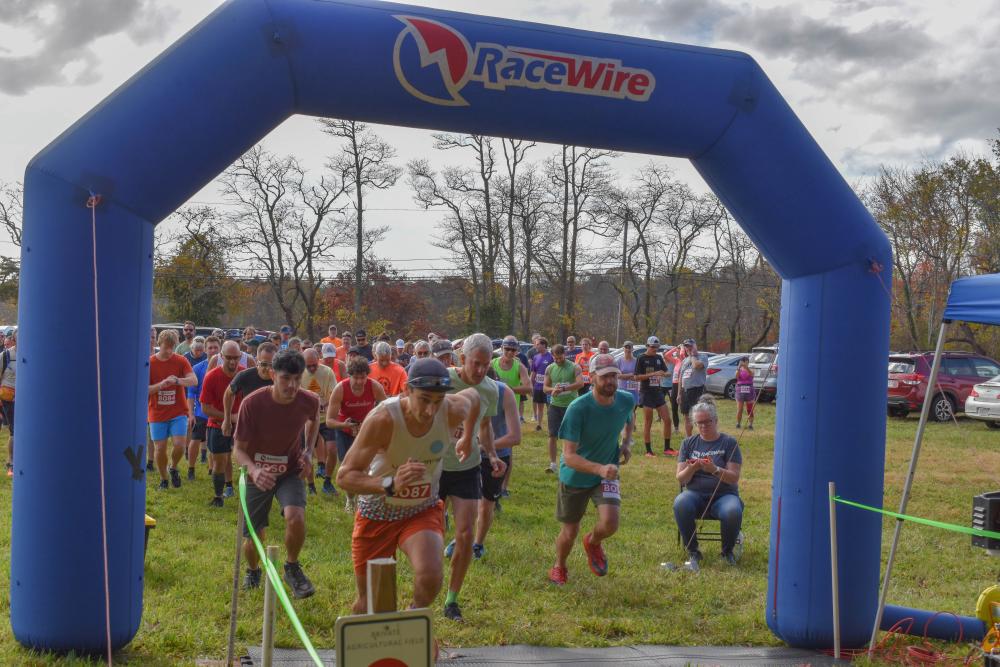 Trail running returns to Destruction Brook Woods
Destruction Brook Woods saw an increase in its typical foot traffic on Saturday as dozens of runners raced through fallen leaves and rocks for the Dartmouth Natural Resource Trust's eighth annual track race – the first full race since 2019.
Due to the pandemic, things had to go virtually for one of the land trust's biggest fundraisers in the past two years. Instead, runners were able to choose from three courses instead of all congregating at the site near Russells Mills Village.
"It was definitely popular in 2020," said DNRT outreach specialist Kendra Parker. "Last year he definitely lost that novelty because a lot of people wanted to come back in person."
It was certainly an ideal day for a return to normal, as the runners had a November day of 70 degrees with minimal breeze, as well as plenty of fall foliage along the courses.
This year around 150 runners and walkers ran through the fur property off Slades Corner Road. Runners raced down 3.3 miles of winding, leaf-strewn trails, while those who walked embarked on a 2.4-mile course around the serene creek.
When the race started in 2015, it was held in the Slocum River Reserve and runners had to follow Horseneck Road for about a mile from reserve to reserve. The switch to Destruction Brook took place in 2017, a decision Parker noted that it was definitely for the best.
"It's a great place to run: there are wide, flat trails and few rocks on the roads like some of our other properties," she said. "Also, we have plenty of parking spaces here."
New this year was a chip that runners had on their bibs that activated the moment they hit the track – something DNRT executive director Nick Wildman said was very popular among runners.
He noted that it's a good way to get a better time for riders who might have gotten a less advantageous starting position at the start (or for latecomers who missed the official start).
"Theoretically, you could start after everyone else has gone and still win," Wildman said.
Luckily for New Bedford racer Keith Nadeau, all the racers started at the same time so none could usurp him on the track in order to secure his first place finish. Naudeau finished in about 20 minutes, with an average pace of 6 minutes over the 3.4-mile race.
The New Bedford racer said he was very happy to take the win, noting that he had just been beaten during the 2019 race. Nadeau noted that he typically competes in events of up to 100 miles.
"It felt like a good, shorter training day," he said.
The top female finisher was Dartmouth resident Stacy Clark, who said it was her first run through Destruction Brook Woods. She finished after about 27 minutes, with a pace of 8 minutes 18 seconds.
Two weeks ago, she said she took part in an ultramarathon in Rhode Island and signed up after her friend Jim Butler suggested she run the trail race.
"I thought why not?" said Clark. "It was a lot smoother than the other race."
She said her main strategy in the fast finish was to just focus on the race, leaving her friend behind.
"I told her if I held her back, just go for it," Butler said with a laugh. "And she did – I didn't think she would take me at face value."
Other notable finalists include Will Fairfax, a Dartmouth High junior who finished first in the men's under-19 category, and nine-year-old Lena Gardner, the fastest woman under-19.
"I just jogged," Gardner said.
Proceeds from the event were donated to the non-profit land trust to support its mission to preserve and protect Dartmouth's natural resources.
Parker noted that while this is the last of the big fundraisers this year, the land trust still has plenty of events and walks for the last two months of 2022.
"There is still a lot to do," she said.