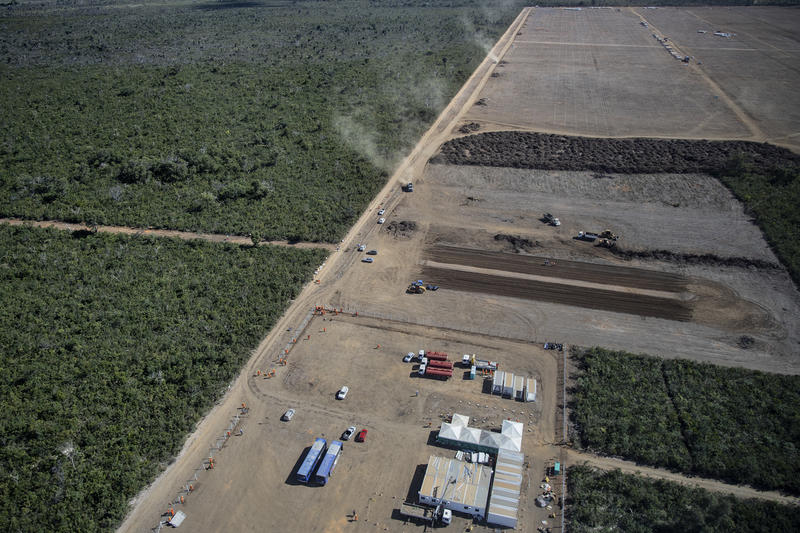 Soy giants lobbied against deforestation rules at COP26
Traceability
The second reform contested by the groups aims to improve traceability, by requiring traders to provide a geolocation of the farm or plantation where the food was grown, thus establishing whether it comes from deforestation.
The groups told Timmermans that the EC's "high demands" on traceability were fraught with "confidentiality issues" – some farmers might refuse to share such data with the EU – and "commercial sensitivity".
However, some small farmer groups argue that these EC proposals would benefit their members and that opposition to geolocation aims to protect the power of major commodity traders over small farmers.
In a letter seen by Earthengroups representing nearly 35,000 small-scale cocoa farmers in Côte d'Ivoire say these measures are "not just about fighting deforestation", but "social equity and an opportunity to put in place mechanisms to enable producers , the first players in the supply chain, to live decently from their work. »
The letter indicates their support for a clear traceability requirement that could help clean up the cocoa sector, from facilitating secure electronic payments to simplifying the supply chain and cutting out middlemen.
He also disputes that the European Cocoa Association has joined other trade associations in criticizing the proposed traceability reforms. — a claim that the ECA rejects.
"Industrialists who oppose a traceability system involving the geolocation of plots and the identification of each producer", we read, "in reality militate so that nothing changes".
"They want to protect a status quo in which they maintain control over the sector and safeguard their interests and profits, at the expense of small farmers and forests."
"We know that some actors are used to speaking on our behalf. We say that nobody knows us better than us and no actor, whoever he is, can claim to defend our interests and work for our happiness better than us.
Professional associations have been contacted and directed to their recent statement.
The European Cocoa Association also provided its position on the law, and said:We strongly oppose the statement that we are against traceability systems and geomapping. On the contrary, we support any effort to strengthen existing systems as this is an essential condition for achieving a sustainable and modernized cocoa sector.
Bunge said: "Given the full context of the letter and not the selected excerpts, it is clear that the associations' suggestions are part of an open consultation process that aims to support the design of an effective framework to achieve sustainable transformation of our industry's processes and reducing global deforestation, not simply focusing on improving EU supply chains through simple sourcing separation.
ADM said:The current proposal calls for actions that will create a two-tier market, one for Europe and one for other regions of the world. We have proposed adjustments to the policy that we believe will be more effective in achieving our common goal of ending deforestation.
Cargill said: "We are fully committed to eliminating deforestation as set out in the company's statement of intent, and we are working both as Cargill and with industry associations on the most effective way to do so. reach. To eliminate deforestation, we must transform the food supply chain by putting in place mechanisms to protect native vegetation in a way that is economically viable for farmers.