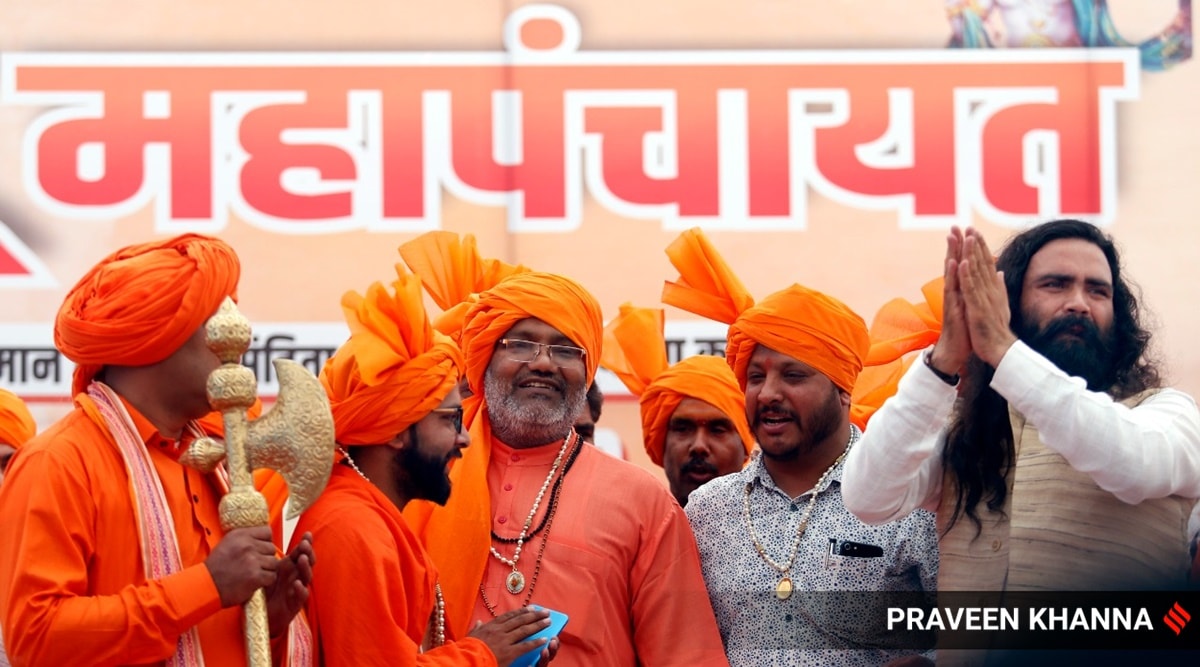 Released on bail in hate speech case, Yati Narsinghanand does it again: Tells Hindus to take up arms
At a mahapanchayat held in Delhi on Sunday for which police said they did not grant permission, Yati Narsinghanand, arrested in Haridwar hate speech and released on bail after weeks in detention, gave a speech urging Hindus to take up arms, saying they were threatened with conversion and violence if a "Muslim is appointed prime minister".
Late Sunday evening, Delhi Police issued a statement saying an FIR had been filed for the inflammatory speeches. "Some of the speakers, including Yati Narsinghan and Saraswati…and Suresh Chauhanke, editor of Sudarshan News, uttered words promoting discord, feelings of enmity, hatred or ill will between two communities," said the FIR registered at the police station in Mukharjee Nagar.
The event was organized by Preet Singh, founder of the Save India Foundation and one of the organizers of an event held at Jantar Mantar last year where anti-Muslim slogans were thrown around. Singh was arrested by Delhi police in connection with the case and is currently out on bail. According to his Twitter account, Sunday's Mahapanchayat event was scheduled as early as January 2 this year.
Delhi Police said the organizers did not have permission to hold the event. (Express photo by Praveen Khanna)
Narsinghanand, chief priest of the Dasna Devi temple in Ghaziabad, is also free on bail in connection with a speech he gave at a three-day 'Dharam Sansad' held in Haridwar last December. His bail condition stated that he would not participate in any event or gathering "that seeks to create a difference between communities".
Speaking at the Burari field in Delhi, where around 500 people had gathered on Sunday to take part in a "Hindu mahapanchayat", Narsinghanand said that if a Muslim is appointed prime minister, "50% of you (Hindus ) will change their faith over the next 20 years."
Narsinghanand also said that "40% Hindus will be killed" if India were to have a Muslim prime minister. "This is the future of Hindus. If you want to change that, be a man (mard bano). What is it to be a man? Someone who is armed," he said.
While Delhi police said the mahapanchayat organizers did not have permission to hold the event, no one was arrested or detained ahead of the meeting.
"We are scanning all images, some videos were also recorded by Delhi Police during the event. Appropriate legal action will be taken after getting legal advice," a senior police official said.
At the mahapanchayat, Narsinghanand also told the crowd that Hindus should have more children and teach them how to fight.
"If you want Hindus and Muslims not fighting, watch The Kashmir Files. Just as the people of Kashmir had to abandon their lands, their daughters and their possessions, you will have to escape and drown in the Indian Ocean. It's the only option you have," he said.
Sudarshan News editor Suresh Chavhanke, who was also present at the event, said he was not for equal rights for all. "I consider Shivaji as my ancestor and you consider Aurangzeb as yours… I am a worshiper of Ram Chandra, you are the son of Babar. I want Shiv Mandir in Kashi, you are fighting for Gyanvapi mosque… Can there be a tie? he said.
Another defendant in the Jantar Mantar case last year, Pinky Chaudhary, was also present on stage. He, however, did not speak. His bail order, dated September 30, 2021, prohibits him from committing an offense "similar to the offense of which he is charged or suspected of the commission of which he is suspected".
Some of the journalists who went to cover the event said they were beaten by members of the public. Two FIRs, one of whom is charged with indecent assault, wounding and attempted kidnapping, were registered based on complaints from journalists.
On January 15, Haridwar police arrested Narsinghanand on the basis of three FIRs – two for hate speech filed under IPC sections 153A (promoting enmity between different groups) and 295 A (outrage religious feelings) – and another for "objectionable remarks" made during the speech "against the women of a particular community". On February 8, a court in Haridwar granted him bail in the hate speech case.