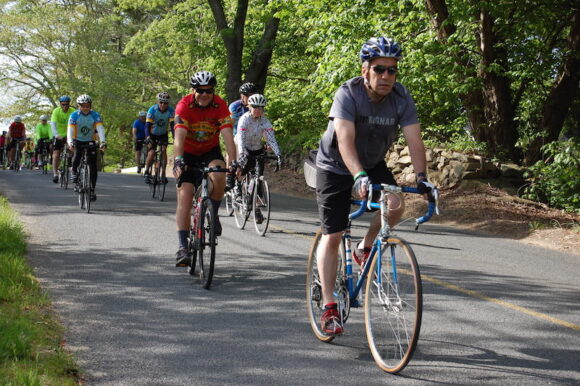 'Lyme Tour' taking place on Sunday, Benefits Lyme Land Trust; Registration still open
LYME— After a two-year hiatus caused by the COVID-19 pandemic, the eighth edition Lyme Tower will recur on Sunday, June 5. This is a change from the original May date announced to support the local farmer, who leases the fields from Ashlawn Farm. This change will allow the fields, where the cars are parked for the Lyme Towerto collect before the event.
For competitive riders, this is an opportunity to prepare for the upcoming cycling season. For others it's a wonderful opportunity to cycle through Lyme and enjoy the surrounding countryside. If you're a mountain biker, this is your chance to ride private terrain open just for this event.
Everyone – runners, sponsors, and volunteers – will enjoy a post-ride picnic at Ashlawn Farm with popular food trucks, beer and live music. This year there will be physiotherapists to help with injuries, the ever-popular massage therapists to relax tight muscles, and a herbal sale to stock up on herbs for the upcoming season. There will also be Lyme Tower shirts for sale.
For all information and online registration, go to www.tourdelyme.org
This is not a race, but a carefully planned series of races designed to suit all skill and endurance levels. There are four road rides of varying length and degree of difficulty:
The CHALLENGE, as the name suggests, is 60 miles – a real workout;

The CLASSIC, shorter at 25 miles, but still a challenge;

The walks of the VALLEY

‒

nicer and easier rides with fewer hills, 26 miles or 35 miles

Family

‒

just 8 miles designed to ride with kids.
There are also two mountain bike options;
the RIDER'S TEST a 26.5 mile ride for serious enthusiasts

a shorter and less difficult option.
The Lyme Tower is hosted by the Lyme Land Conservation Trust. Since 1966, the Lyme Land Trust has preserved the unique and historic landscapes of Lyme, Connecticut. Over these years, the rural community of Lyme has shown that a small population can have a big impact and protect over 3,000 acres of woods, farm fields and bird-filled marshes. The result is an outdoor paradise – open to everyone.
The money raised from the Lyme Tower will create additional opportunities for the public to enjoy Land Trust reserves whilst protecting and maintaining what has already been conserved for generations to come.
The Lyme Land Trust is a 501(c)(3) non-profit organization – registration and donations are tax deductible.