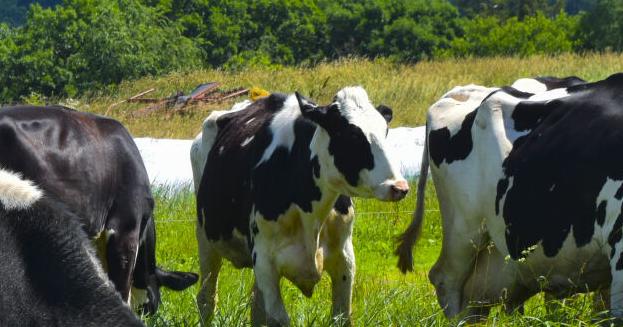 Farmland conversions jeopardize the future | Company
Wisconsin features in two "top 12" lists. This is not good news, especially if a person operates or intends to operate a farm. Wisconsin is listed as the 12th state in the nation by total area likely to be converted by 2040 from agricultural land to residential, commercial or industrial land. And Wisconsin ranks seventh in the nation in terms of the best quality land that should be converted.
If recent trends continue, more than 515,000 acres of Wisconsin farmland will be converted to other land uses. This is an area more than eight times the size of Milwaukee. This equates to the loss of 2,400 farms and about 6,400 agricultural jobs, according to American Farmland Trust.
This is the organization's third study of farmland loss in the United States. Its first two studies tracked farmland conversion from 1992 to 2012 and again from 2001 to 2016. American Farmland Trust researchers used the data to model and predict future farmland conversion out to 2040. The Land conversion has been categorized into two types – urban and extreme density development, and lower density development.
Urban and extreme-density development has generally been the main culprit in the conversion of agricultural land. It encompasses residential, industrial and commercial areas typically found in and on the outskirts of cities and towns. It also includes industrial sites — such as oil and gas infrastructure and solar development, said Cris Coffin, national director of the Farmland Network and senior policy adviser for American Farmland Trust.
"But low-density residential land use has increasingly become the culprit for farmland conversion," she said. "We worked with conservation science partners to develop an approach to map and quantify the impacts of this type of development."
Low density residential land use includes subdivisions as well as large farmhouses and ranches.
"Housing scattered over large lots is fragmenting farmland and making production more difficult for remaining farms," ​​Coffin said. "Some of the agriculture can be found on low-density residential land. And some smaller agricultural plots in these areas, especially those near urban centers, can be profitable and sustainable. But once the land has been converted to low-density residential land, it is more likely to be further converted to more developed urban land.
Using historical land use data and modelling, the American Farmland Trust developed three scenarios.
For the "business as usual" scenario the researchers made a straight line projection. They used the same annual rate of land conversion they had documented from 2001 to 2016 to predict the level and location of conversion by 2040.
"We adjusted the model to account for projected population growth or decline," Coffin said. "Based on this scenario, we have developed two alternative scenarios."
For each of the scenarios, the researchers mapped the risk of coastal flooding projected by a rise in sea level. Once they had the conversion and flood risk projections, they quantified the effect of the scenarios in two ways – on the type of agricultural land likely to be converted and on the quality of the land.
"We used a productivity, versatility and resilience index that we created as part of our report in 2020," Coffin said. "But there are some caveats to modeling. We have not been able to take local zoning into account. Land use regulations are inherently local and there is no national database to rely on. Our maps represent a general pattern and the approximate amount of likely conversion, based on conversion patterns from 2001 to 2016. They do not reflect what may be permitted or prohibited in the field by local land use regulations.
The modeling also does not take into account the impact of water scarcity and the potential battle for land due to this scarcity. The mapping is complex with many variables and was beyond the scope of the analysis, she said.
The second scenario, runaway sprawl, projects a future where lower density residential development deteriorates. Continued increases in housing costs in urban areas are pushing more people to move to rural areas, she said. Work opportunities and remote work opportunities have also increased and will continue to do so as rural broadband continues to grow.
The third scenario is better built cities where proactive efforts are made to reduce the footprint of residential, commercial and industrial development on productive agricultural land.
Actions can be taken to choose an abundant future. American Farmland Trust made four key policy recommendations, Coffin said. County or municipal officials, state legislators, state agency employees, congressional staffers and others are encouraged to consider advocating for one or more of the organization's recommendations.
"If you are a farmer, we encourage you to share and discuss the recommendations with your elected officials, agency representatives and partners," she said.
American Farmland Trust has made policy recommendations in each of the four categories and at all levels of government.
• protect agricultural land
• advancing smart solar implantation
• support access to agricultural land
"The foundation of smart growth or compact development is good local planning," Coffin said. "Comprehensive plans can provide the vision and roadmap for land use regulations that promote compact development and minimize the development of a community's best agricultural land. We encourage people to get involved in their county's overall planning process.
"Wisconsin is one of the few states that encourage county-level farmland preservation plans. We encourage counties to use the plans to raise awareness and support actions to conserve the land base that is so critical to the state's agricultural industry.
This is an original article written for Agri-View, an agricultural publication of Lee Enterprises based in Madison, Wisconsin. Visit AgriView.com for more information.
Lynn Grooms writes about the diversity of agriculture, including the latest industry ideas, research and technology as a reporter for Wisconsin-based Agri-View.