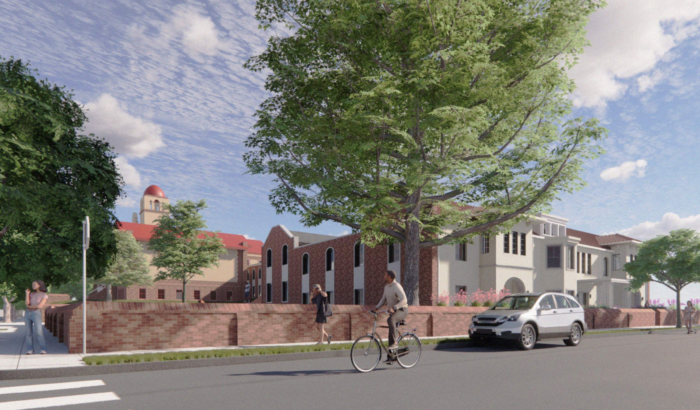 Campus of the museum district of Sainte Gertrude under contract with the promoter
After sitting vacant for a year, an iconic property in the Museum Quarter is being planned for apartment conversion.
Local development company SNP Properties has filed plans to renovate the old Saint Gertrude High School campus at 3215 Stuart Ave. in apartments.
Plans show that SNP intends to keep the footprint of the former 69,000 square foot school building intact and renovate its interior into 38 apartments. New construction is expected as SNP also plans to build a pair of two-story townhouses on vacant land at 311 Tilden St.
Since the land is zoned for single family residential use, SNP is requesting a Special Use Permit to enable the project.
SNP manager Eric Phipps confirmed his company had the land under contract, but declined to comment further. SNP filed its Special Use Permit earlier this month.
At approximately 2.2 acres, the land covers about half a city block and was recently appraised by the city at $9.8 million. Saint Gertrude had operated in the building for decades until 2021 when it moved to the Benedictine College Preparatory campus in Goochland.
The Benedictine Sisters of Virginia, a monastery affiliated with Saint Gertrude, have owned the land since 1913, the same year the building was constructed. BSV Prioress Sister Joanna Burley said she had mixed emotions about the sale and redevelopment of the building.
"We are very pleased that (SNP Properties) is aware of the history of Sisters and Saint Gertrude High School in Richmond and that it is a renovation rather than a complete teardown," said Burly.
"It's a good deal, really. We are sad, I must say, we are infinitely sad that the school as it traditionally was no longer exists. But the school is essentially continuing and a good part of the proceeds from the sale will be used to support Saint Gertrude in Goochland.
Burley said the land deal is expected to close this fall. Rebecca Barricklow and Joe Marchetti of Colliers International have the list.
Of the 38 units planned, 17 would be two-bedroom units, 16 would be three-bedroom units and five would be one-bedroom units. The development would have 53 parking spaces accessed through the back lane of the building.
SNP has engaged Lory Markham of Markham Planning as a representative in the eligibility process. The developer has also brought in historic preservation company Sadler & Whitehead as a consultant, as they work with the Department of Historic Resources for tax credits. Markham Planning and Sadler & Whitehead are already quite familiar, as they both recently moved into the same Art Deco building in Monroe Ward.
Fultz & Singh Architects is listed as the designer of the project and Gradient PC is its civil engineer. It is unclear when the case will be heard by the city's Planning Commission.
Although SNP Properties has many new construction projects like The Penny in Jackson Ward and The Summit in Scott's Addition, it has recently shown an appetite for renovations.
In the Arts District, he recently converted 24 E. Broad St. into a mixed-use building with 10 apartments and commercial space on the ground floor. Down the street, SNP has converted a once fire-damaged building at 11 W. Broad St. into a restaurant space now occupied by Juan's Cantina and Rooftop.
One of SNP's biggest recent deals was its acquisition of the LaDiff building in Shockoe Slip for $10.5 million. SNP said it was considering a mixed-use conversion of this building, although details were not disclosed. LaDiff, meanwhile, is heading to South Richmond for its new headquarters.